We three set off from Dartmouth in calm weather, intending to reach Berry Head and return, a round trip of about 24 km. After diverting to visit the seals lazing on the rocks of the Mew Stone (see an earlier post) the south east breeze had whipped up some waves, so we paddled to Pudcombe cove, below the National Trust house Coleton Fishacre. I needed to put on a more waterproof surface. Martin was worried about landing through the surf in his highly polished, home made plywood boat. So Richard and I went on shore first and waded out to help land the delicate ship. That was before I had added a waterproof top. Fortunately the weak sun warmed me enough and we got a free hot lunch from some Brixham club people who had already landed. We ate the lunch of two of their group who had been plucked from the sea off Berry Head by the lifeboat.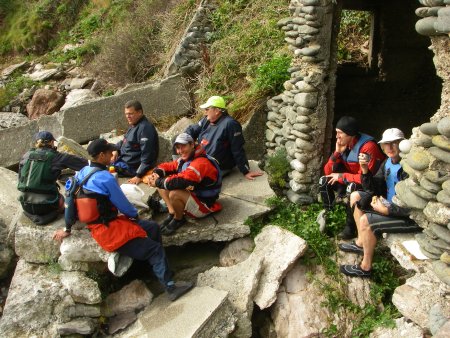 One of the Brixham people had a wooden boat, so we watched them launch first on their way to Kingswear, downwind.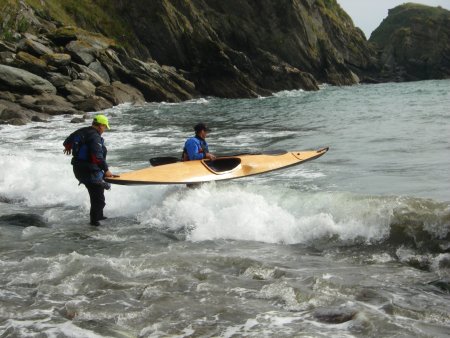 Then we launched and turned towards a threatening band of white capped waves which had been whipped up by a rather moderate south east wind. According to fishermen, the sea floor in this area is very uneven, full of spiky rocks which create a disturbed sea when the tide is running, so even a moderate wind generates intimidating waves. After being dumped on by several breaking waves we decided we weren't going to make Berry Head this day, unless we also needed to call out the lifeboat, so we turned home.