The surrealist film director Luis Bunuel could not have produced a sharper satire on the state of the nation than that provided for the citizens of Dartmouth by the olympic flame relay.
An hour before the flame time, God's Bus passed through with exhortations to praise the lord who was unknown to the ancient Greeks. It had to pass through early to avoid the sponsor police because God has not contributed money to the games. The three sponsors of the torch relay were also embussed, with synthetically enthusiastic drones hopping up and down and distributing balloons and tambourines. Their logos are pixellated in these pictures because this is a strictly non-commercial website.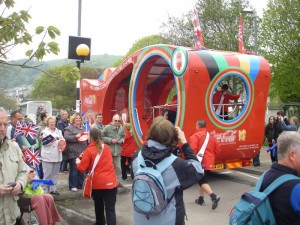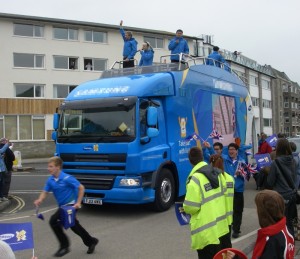 A hundred or so police vehicles were circling around with blue lights flashing. The motorbikes had difficulty going slowly enough to keep pace with the flame, which finally appeared carried by a walking elderly man, Barrie Goodfellow, who was led by his guide dog.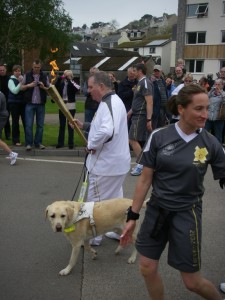 It would have been good to carry the flame to the next town, Totnes, by canoe up the Dart estuary on the flood tide but instead it was packed away in one of the convoy of buses which would take it by road to Totnes western bypass, where it would step off the bus and proceed along the dreary main road which bypasses the fine town centre with its music-free cafes, alternative herbal remedies and spiritual bookshops.
For us, it was a gentle relief to get back on the water and paddle out to visit the seals of the Mew Stone,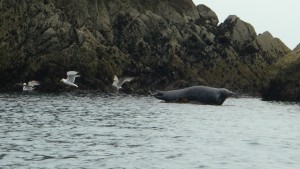 Followed by lunch in Newfoundland cove on a calm but cloudy afternoon.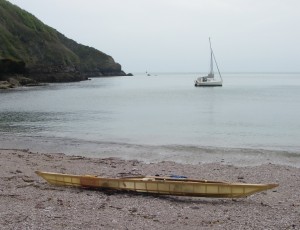 Tim Padfield