Choppy sea and annoying headwind deflected a long planned sea voyage into the calmer water of the Dart estuary. Since one of our company has made many voyages as crew of the tourist water bus, with its imaginative loudspeaker commentary on the history and wildlife of the river, we decided to go further upstream than the bulky motor boat can manage. The novelty began with a vertical landing near Totnes bridge, for a pause and a snack at the Waterside Bistro at the top of the ladder.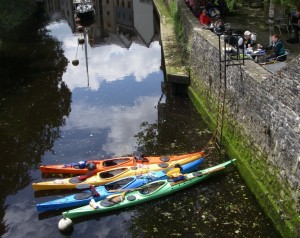 Then we pressed on under the fine 19th century Totnes bridge, which is much easier to pass under than to cross over as driver of a human powered transport.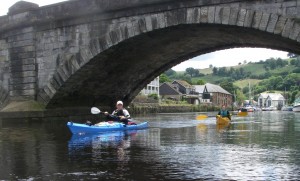 We continued to the tidal limit at the weir, which is shortly to be fitted with archimedean screw turbines to provide 200 kW and enhance Totnes reputation as a green, progressive, environmentally aware, transition town. Currently the plan is way behind schedule because of serial objections, reinforcing Totnes reputation as a disputatious community.
The 200 m portage around the weir is tedious with fully loaded kayaks but once beyond we were on the slowly moving river surrounded by grassy pastures and wooded slopes, with the tourist steam railway to Buckfastleigh close by the eastern bank and the Dartington estate to the west.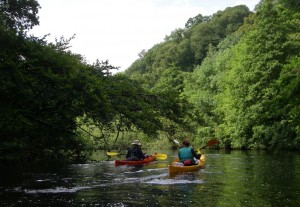 As we left the pool behind the weir the river bed rose to meet us and the flow increased. We abandoned the uphill struggle about a kilometre short of the next weir at Staverton and prepared to camp on a sandbank under the trees. It was a good metre above the river level but at least as much below the flood level reached only three days earlier. We checked the weather forecast and flood alert before pitching tents. My Hennesy hammock slung between inconveniently spaced trees gave me an extra half metre safety margin but an uncomfortable night with feet resting against a tree trunk.
My camera doesn't do low light well, but here we are in soft focus enjoying our evening meal accompanied by the gurgling water and the whistles of the train transporting a dinner party down the rails to Totnes.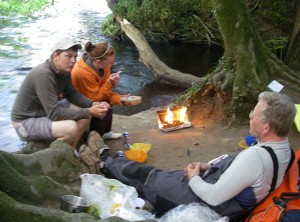 The next day we departed for Dartmouth, transported swiftly down by stream, then tide and wind.
Tim Padfield