Boxing day gave a rare glimpse of sunshine and calm sea. But the heavy swell of past storms gave a whooshing ride through the narrow gap in the rocks in Castle Cove. We led our Danish guest into the shallow cavern below the coast path. It was unusually turbulent, hence the camera shake, and booming with the explosion of compressed air from the swell bursting in the neighbouring inlet.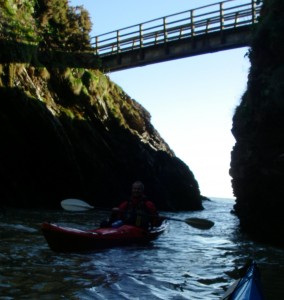 Then we moved on to Compass Cove for a mid morning break. The swell caught me by surprise and rolled me onto the beach with some gusto.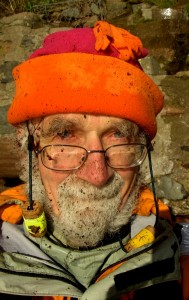 My companions persuaded me that a selfie would give a suitably maritime decoration to this post.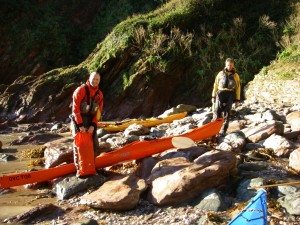 They had landed without rotational acrobatics and were breaking out their refreshments.
Then we paddled over to the Mew stone and poked our noses into the bay leading to Coleton Fishacre but the freshening wind, the long row of cumulus clouds on the western horizon and the veiling of the sky with high cirrus persuaded us that it would be wise to return.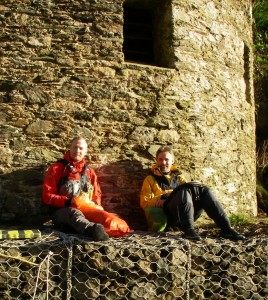 We paused in the safe haven of Mill Bay Cove, poking our noses into the cave but withdrawing as surf crashed into the other entrance. Our lunch pause under the tower folly was warmed by the weak sun reflecting from the stone. We sat on the recently installed defensive gabions, which look impermanent, but time will tell.
We paddled back between the castles with the low winter sun lighting the leafless trees above Dartmouth castle and the exotic pines above Kingswear castle.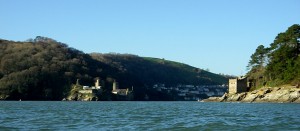 As we paddled up river to the higher ferry the high cloud thickened and the sun disappeared behind the gathering storm. It was a rare day of sun and calm between the series of winter storms.
tim