The Dart estuary is always changing. The good news is that the Kingswear Castle has appeared to paddle up and down the Dart. It is an elegant historic ship which provides a bonus for kayak paddlers in the wave train generated by its paddles, which allow one to surf in its wake.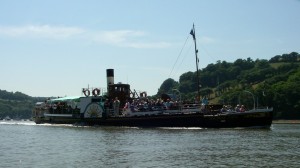 The bad news is that the oyster farmers have found a new style of enclosure. This is a tetrahedron with a peak that will surely slice through a canvas on stick kayak, and scrape any other type.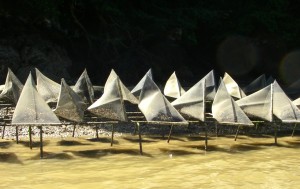 It's true that there are buoys marked 'oyster beds' but there are now so many that getting to picnic ashore requires some knowledge of the river, once the tide has concealed the hardware.
Up to now, the oysters have sheltered within flatpack envelopes, which also provide shade at low tide, with a luxuriant growth of algae.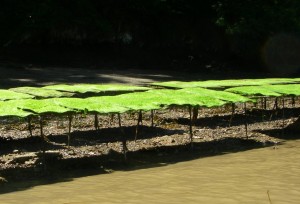 Spring high tides also spring surprises. Here is the tide mill dam at Stoke Gabriel. River water spills over at spring tides. As soon as the water breaks into the dam pool, on the left, masses of fish leap over.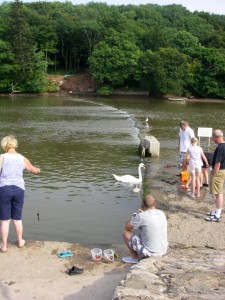 The sudden migration soon subsides. But why do the fish so eagerly rush into the mill pool? It is only 30 cm deep, having silted up over a century or more of disuse. Maybe it gives relief from predators. Explanations please.
One might imagine that it would be good to reinstate the tide mill with sustainable generation, but a calculation suggests a minimal output of only a few tens of kilowatts on average. Dredging the pond better to exploit the 4 metre tidal range would be very energy intensive, giving a long payback period. The potential of hydro power in this tidal and hilly region with lots of rain is surprisingly small when one makes realistic calculations.