A brisk north easterly gale frustrated our hope of paddling round Møns Klint – the 130 m high cliffs of chalk which appear on every tourist brochure about Denmark, which is otherwise short of landscape drama.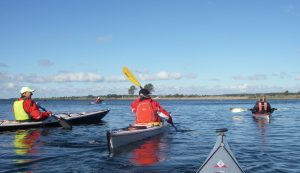 Instead, we crept around the south of Møn, following the motor road causeway for a long stretch. There were also stretches of marshland with flocks of waders testing the air currents for the journey south.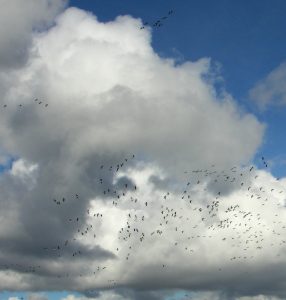 We took a coffee break at Bogø harbour, where the ferry goes across to Stubbekøbing.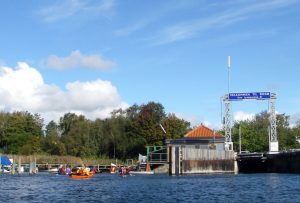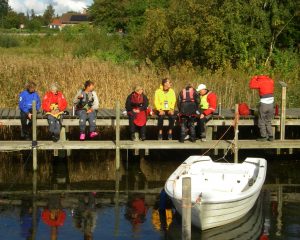 Our lunch stop was a strangely remote grassy path which led nowhere but whose planted vegetation provided shelter with the added buzz of wasps feasting on fallen apples.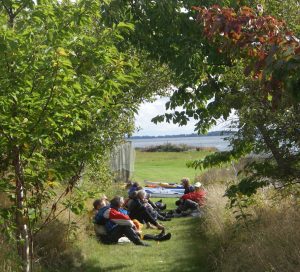 We returned the same way, passing Fanefjord church.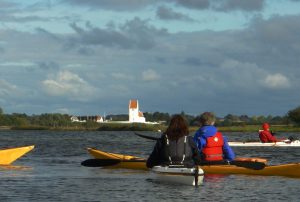 Back on land, we visited the church, which is the man-made wonder of Møn which features in the tourist brochures.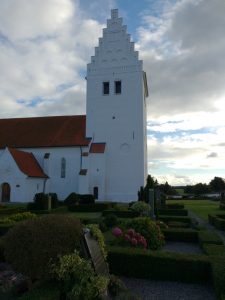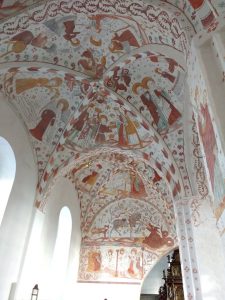 The wall and vault paintings are from around 1500 and are attributed to the Elmelunde master, Elmelunde being a neighbouring church. The paintings were released from concealment under layers of limewash, then finely restored by conservator Lind around 1930. It is not obvious how much of the painting is original, because its appearance is now quite uniform, but if you have good light and binoculars you can detect the original mortar by its spots of black charcoal left from the lime burning. 20th c. lime was made without charcoal, so the conservator dipped a stiff brush in ink and sprayed the ink onto the surface. There is a lot of splashed black.
The next day dawned not quite so windy but wet and misty. We tugged the boats by trailer to a launching pad at Kalvehave at the north end of the bridge to Møn.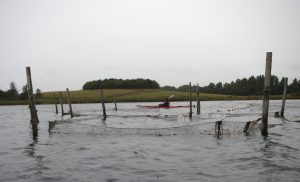 One pleasure of kayaking is travelling very close to shore, but in this region the fishermen deploy their nets from the shore outwards for a hundred metres or more. If one remembers to raise the rudder or skeg the boat glides over the ropes without causing damage.
We paddled round Langø and returned to our starting point near the bridge.
My thanks, as often, go to the members of the Vedbæk kayak club (north Copenhagen) who organise these excursions and offer transport to exotic places.
tim