I motored my kayak the long (for me) journey to Cornwall for a one day improvement course. The update part was powerpoint diagrams with boxes and arrows explaining the coaching hierarchy in all its confusing artfulness. Some quick witted participants immediately pointed out straying arrows between boxes in the sequence of slides, confirming the byzantine complexity of the paddle sport formal structure.
But it was fun on the water, in a way. Here we are going out past the Goodrevy Lighthouse looking for bouncy waves to practice rescues.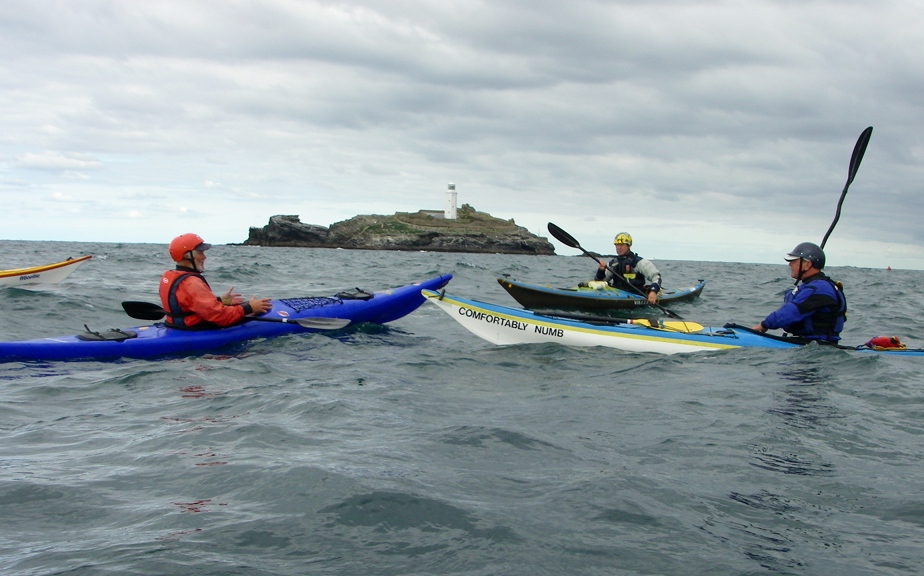 And here is Russell grappling with the instructor's canoe as he splashes around patiently in his dry suit.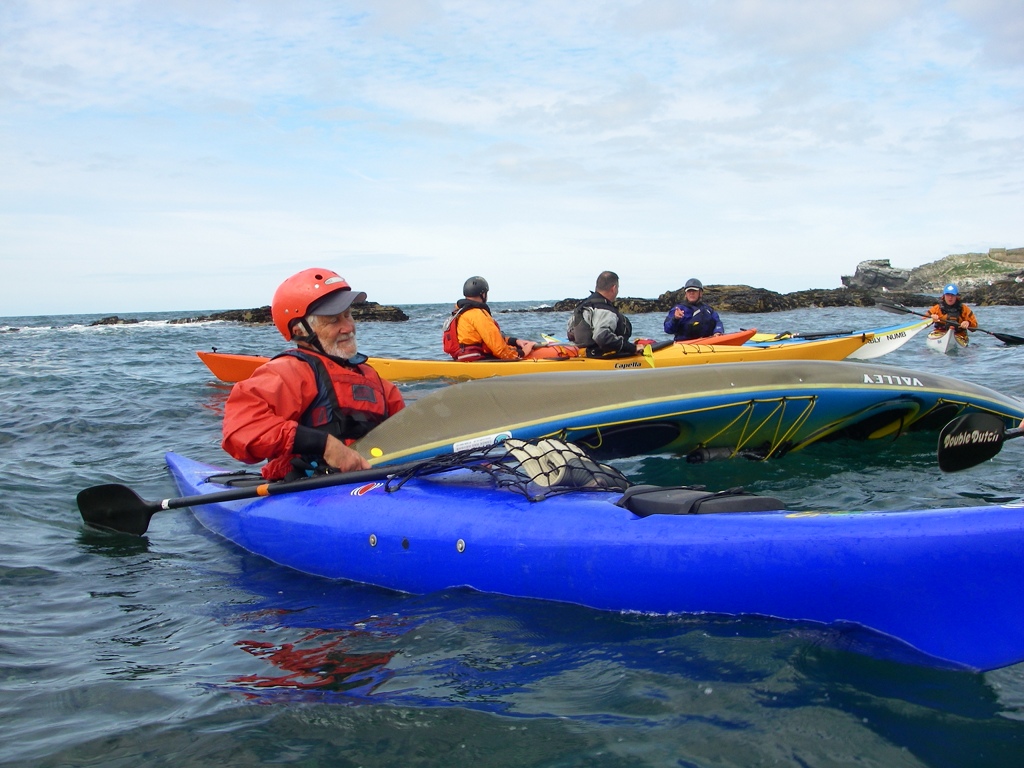 Then it was my turn to take to the water, imitating, improbably, a paddler too heavy to put back into a dry boat. So all my hatches were sprung, the boat forced to flood. I floated into the sunken wreck easily and was then pumped out a bit, to imitate a real rescue but without taking so much time over it.
I spent the rest of the exercise in a half flooded boat making brace strokes to stop it tipping, vainly suggesting we raft up to empty the boat properly. Then I had to rescue an instructor tipped in between two rocks. I don't know if he knew this, but there was a ferocious tidal stream between the rocks, opposite to what one would expect – a classic end of beach phenomenon. So we just stayed in the rough without budging, however hard I paddled to tow him and boat to calmer water.
We ended by practicing Greenland paddle rolls near the beach, so I was a bit late for the afternoon session.
It turned out to be a fortunate late entry. The other participants had been busy making bivouacs which seemed to consist of wrapping a canoe in a pound-shop tarpaulin, then unwrapping it a bit, sticking in some paddles to hold it up and nailing the end to the turf.
Our genial instructor, Steve Hopkin, is a canoe hedonist, devoted, he said, to eating well and sleeping well in the outback. I pointed out that his outback must be remarkably insect free and unfolded my Hennessey Hammock, which is too pricey for a pound shop (multiply by 100) but does keep the midges out. It can be sat on the ground by using two (Greenland) paddles as supports for the netting and the tarp which shelters the hammocky bit. So two trees at the right spacing are not necessary, and in my experience, non-existent.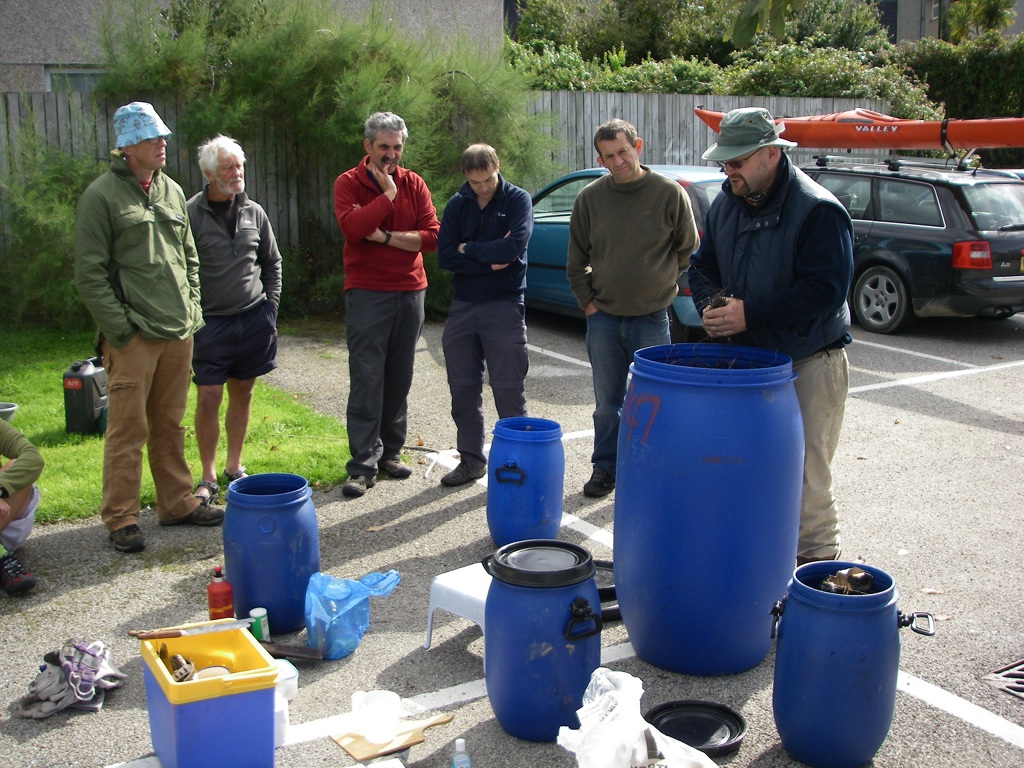 Then we moved on to the cooking techniques. Steve was obviously brought to the event to emphasise to ascetic, minimalistic sea kayakers that the coaching qualification now demands mastery of the open canoe. To demonstrate the extra capacity of this method of water transport, Steve had brought along an assortment of cast iron rustic stoves, each of which would have required strapping two sea kayaks together to transport. He also had some ready made pancake mix for us to vapourise, turn into tar and occasionally confect into a perfect disk of variegated light ochre leather, ready to smear with jam or sardines to make into a tasty snack.
I had a bad conscience about the petrol used for this instructive, frivolous and compulsory escapade (half a tank of my Honda Jazz), so I spent a day exploring the coast path west of Penzance. It is basically granite cliff with few landing places. Here is the view looking south west from Zennor head.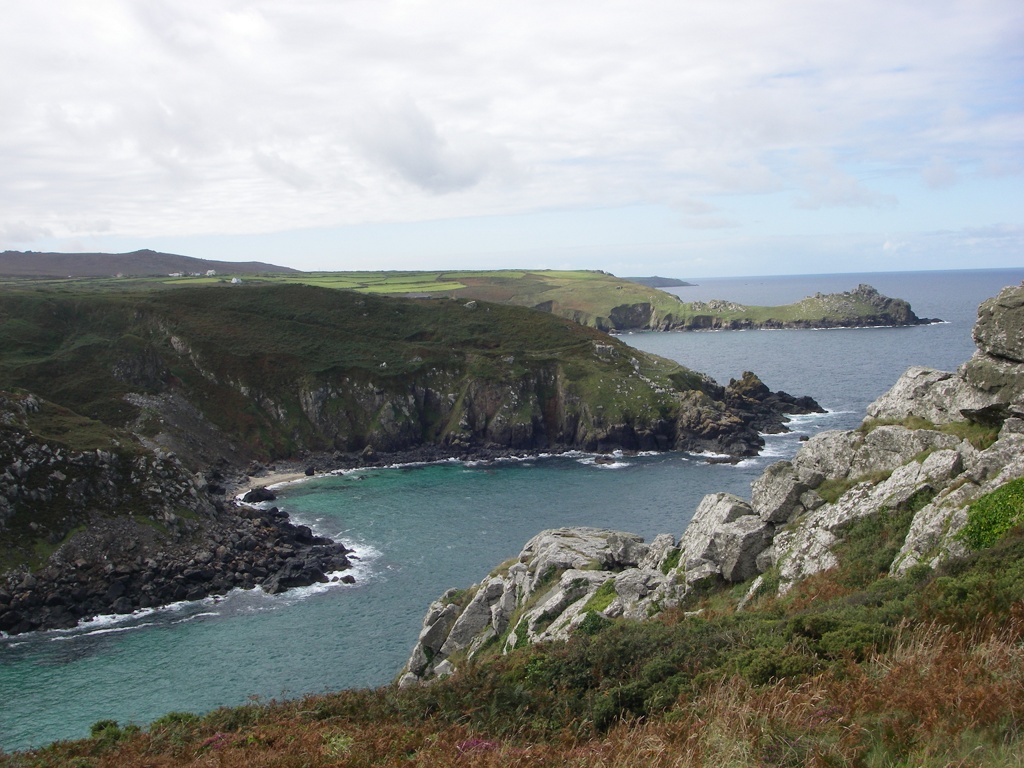 A bit further south is the tin mining area around the Geevor mine. It is an expanse of bare mine tailings on which only Sea Thrift, Armeria maritima, grows. If modern waste, it would be regarded as a shameful, poisonous eyesore. Being ancient and romantic, it is a world heritage site. Here is the arsenic roasting house of the Levant mine.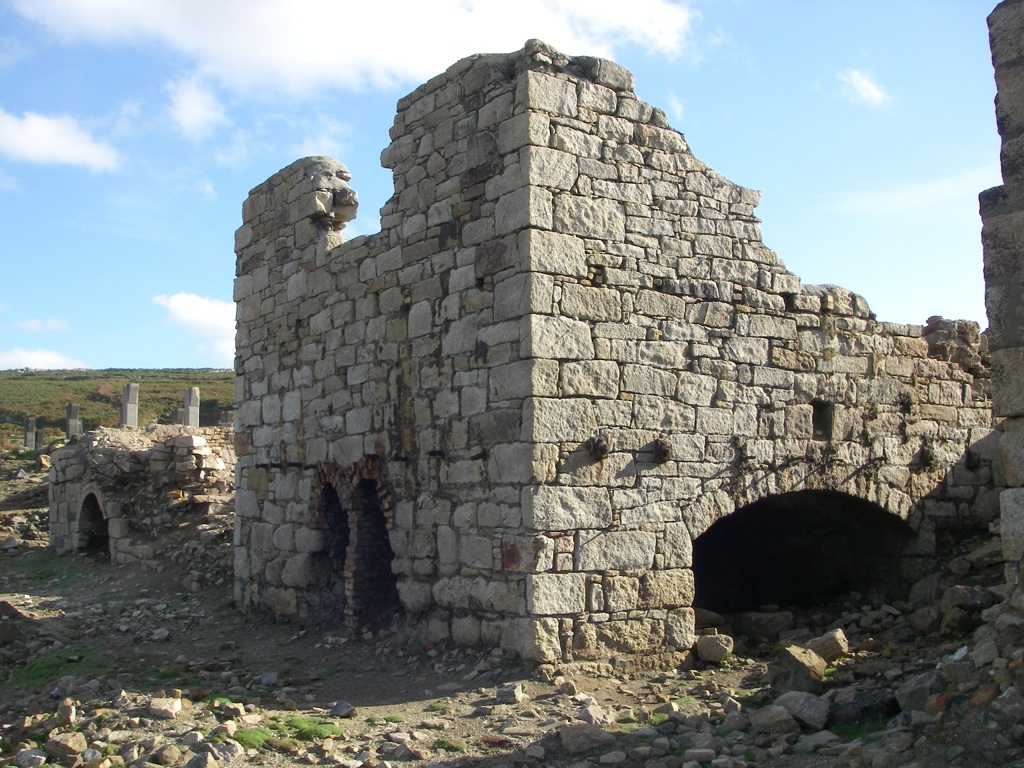 tim P